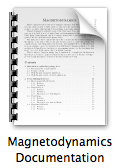 Ball Magnets
This is a completed version of the first tutorial in the documentation. As an end-user, you can build demos like this pretty easily.
Interactivity
Move any of the ball magnets and they will try to rearrange themselves to minimize their total energy.
Details
The documentation walks you through the process of building each of the tutorials and includes assets (graphics and GameObjects) for all of the demos.