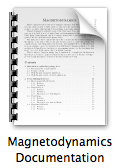 This tutorial shows how to set up magnetic field lines and attach them to an object, in this case, a rotating Earth.
This feature is the only one that requires an external package: Vectrosity by Starscene Software (it draws the lines). Without Vectrosity, everything except the field lines will work.
Interactivity
None. Enjoy the show.
Details
The documentation walks you through the process of building each of the tutorials and includes assets (graphics and GameObjects) for all of the demos.